Print of www.smithonline.id.au on Thursday 27Jan2022 Page : Qld, NSW, NZ
---
Trip 2005 : Qld, NSW, NZ
---
Mt Isa - Queensland

Mt Isa is basically an active mining town with a very long history.
The town itself is quite large. An interesting historic site is the
underground hospital dug out with the help of the mining
company during World War II in case the Japanese managed to invade.

| | |
| --- | --- |
| Crossing the NT / Qld border on the Barkley tablelands | Mt Isa just after sunset with the view of the town and mine |
| Part of the underground hospital at Mt Isa | Another picture of the underground hospital |
---
Undara Volanic National Park - Queensland
From Mt Isa we travelled north to Normaton then onto the Savannah
Way to get to Undara Volanic National Park. There are a number
of lave tube caves (caves which were once underground rivers
of molten lava). Accommodation is in converted railway carriages.

| | |
| --- | --- |
| The railway carriage accommodation | Inside the converted carriage bedroom |
| At the entrance to a large lava tube cave | Inside another lava tube cave |
---
Cooktown - Queensland
To get to Cooktown you pass from the dry bush inland to the very
lush and English like countryside of the Atherton Tablelands. The transition
is very quick - you go over a hill and the country changes
dramatically. Cooktown is further up and the road to it was still
dirt. The town is quiet but has a magnificent history.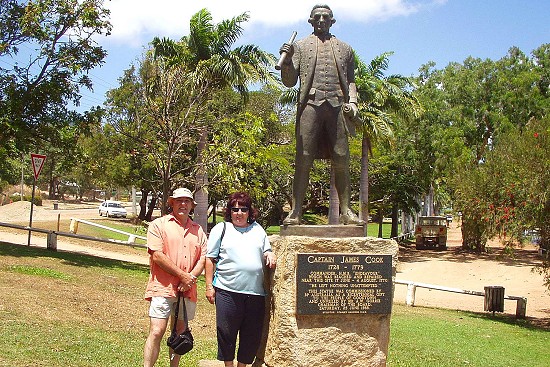 Memorial to Captain Cook who landed here to repair the Endevour
| | |
| --- | --- |
| View of Cooktown | Our cabin |
| The James Cook Museum | Inside the James Cook Museum |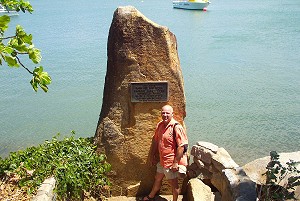 The point in the bay where the Endevour landed for repairs
---
Cairns - Queensland
We took the rough coast road from Cooktown to Cairns - coming
in via Daintree rainforest and Port Douglas. In Cairns we stayed
with our friends Graeme and Tracey. A highlight was the trip
up the Skyrail over the rainforest to Kuranda.

| | |
| --- | --- |
| With our friends in Cairns | On the Skyrail |
| Inside the Skyrail cabin | On the trip back down on the Scenic Rail line |
| Scenic Rail Line | Mirim Falls on the tablelands outside of Cairns |
---
Yeppoon, Bundaberg - Queensland
I'd been to Yeppoon as a kid, and we took the opportunity to
catch up with some other friends outside of Rockhampton. Then
onto Bundaberg. We stayed on the coast at Bargara in a small
brightly coloured boutique motel.

Our units at Yeppoon - right across from the beach



A scuplture on Yeppoon beach



A memorial sculture to the Endevour. It has tuned
pipes that "sing" in the wind.

Our motel at Bargara outside of Bundaberg
---
Brisbane, Movieworld - Queensland
We stayed pretty much in the heart of Brisbane and had a
look around for a couple of days. Caught up with my neice and
her boyfriend, did a river cruise, checked out the botantical
gerdens. Then onto Movieworld.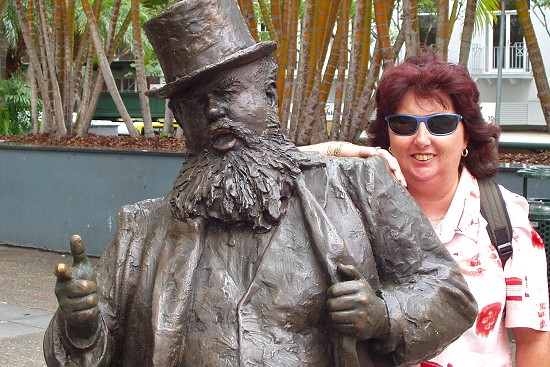 Cheryl in Brisbane's Mall
| | |
| --- | --- |
| Brisbane from South Bank | On the river tour |
| Movieworld - Batman | Movieworld - Marilyn Monroe |
| Movieworld - Policy Academy | Movieworld - Policy Academy |
| Movieworld - Black Mountain Ride | Movieworld - Black Mountain Ride |
---
Gold Coast, Coolangatta - Queensland
Of course Cheryl and I met in Coolangatta. Things have changed a bit -
the old Beach House was demolished and replaced with a new
block of time share units. It was good to have a look though.
| | |
| --- | --- |
| View along the beach to Surfers from Miami | Surfers Paradise |
| Coolangatta Beach | NSW - Qld border |
---
Lismore - NSW
With Sarah living at Lismore, we called in and Trish was good enough to let
us stay for three nights. We had a good look around the area. Also the
Lismore Show was on.
| | |
| --- | --- |
| Cheryl with Sarah at a Cafe in Lismore | Trish's house in Lismore where Sarah was living |
| Lismore Show | Byron Bay beach |
| Byron Bay Lighthouse | Trish, Sarah and Graham |
| Open air catherdral at Bangalow | Open air cathedral |
---
North Coast - NSW
We travelled down the coast pretty quickly - stopping only at
Port Maquarie and Bateau Bay to catch up with some friends
and my Uncle Bob in Ettalong.
| | |
| --- | --- |
| With our friends Terri and Geoff | With my Uncle Bob at Ettalong |
---
Sydney - NSW
Caught up with my Mom, sister and nieces. Some friends had a BBQ which was
a good chance to catch up with lots of people.
| | |
| --- | --- |
| Cheryl, Jenni, Katrina, Mom and Me (plus Grace the dog) | A BBQ at Lother and Barbara's place |
---
Christchurch - New Zealand
We left the car at Mom's place a flew over the NZ for a week and stayed with
Cheryl's brother and sister-in-law. Gloria came over from Melbourne as well.

| | |
| --- | --- |
| A family picnic in the park at Christchurch | Cheryl and Gloria |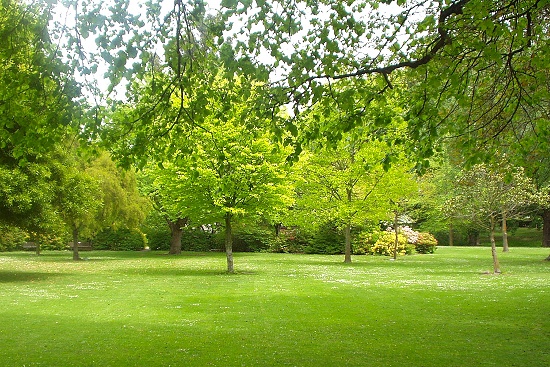 Christchurch's botantic gardens
| | |
| --- | --- |
| A forest walk at Hamner Springs | Hamner Springs lookout |
While in NZ we had a simple service to bury the ashes of Andy and Dawn -
Cheryl, Jackie and Bretts Mom and Dad.

| | |
| --- | --- |
| Andy and Dawn's headstone | A lovely semi-bush setting |
---
|
Trip 2005
|
WA & NT
|
Vic, Tasmania and SA
|
---
Print of www.smithonline.id.au on Thursday 27Jan2022