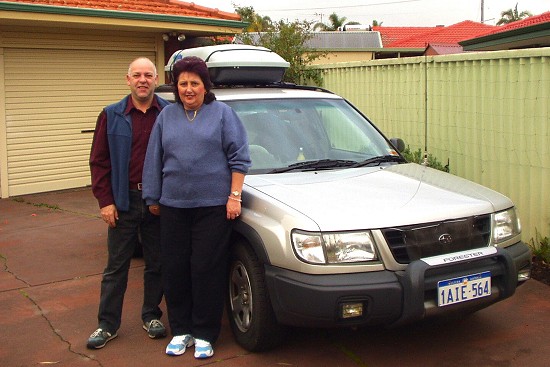 Leaving Perth on August 10
---
Kalbarri - Western Australia

Kalbarri is a nice quiet spot about 600km drive north of Perth.
Staying a few days enabled us to get into the holiday "swing".
The Kalbarri National Park with it's uniquely weathered rock
formations and gorges is a local attraction.
| | |
| --- | --- |
| Where we stayed in Kalbarri - a cabin | Day trip on a boat on the Murchinson River in Kalbarri |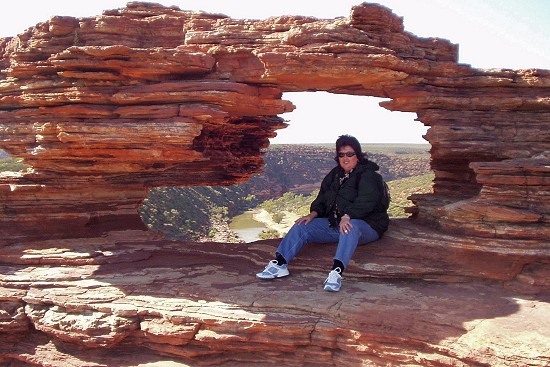 Kalbarri National Park - Nature's Window
| | |
| --- | --- |
| Nature's Window again | Another view of Kalbarri National Park |
---
Monkey Mia - Western Australia
No trip up the north coast of WA would be complete without
checking out the dolphins at Monkey Mia. The only thing at Monkey
Mia is the resort. Denham is about 20 mins drive away. We stayed
in the most budget accomodation available. The dolphins are feed
in the morning.

| | |
| --- | --- |
| Denham harbour | Cabin at Monkey Mia (cheapest) |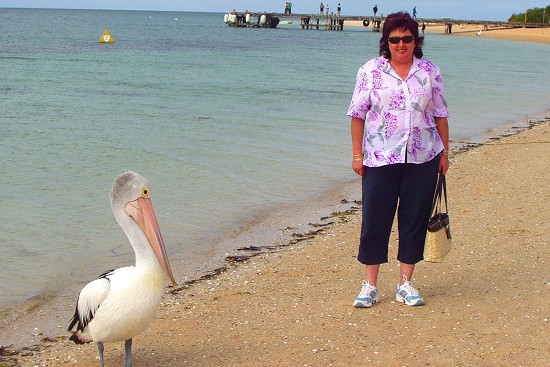 The beach at Monkey Mia - with guest!
| | |
| --- | --- |
| Waiting for the dolphins | Still waiting! |
| Here the are! | Feeding the dolphins. |
---
Carnavon - Western Australia
Small town, impressive jetty and history. Did a very terrific
$5 tour of a local Banana Plantation (best value tour ever -
the owner was very funny).
| | |
| --- | --- |
| Carnavon Jetty | Banana plantation tour |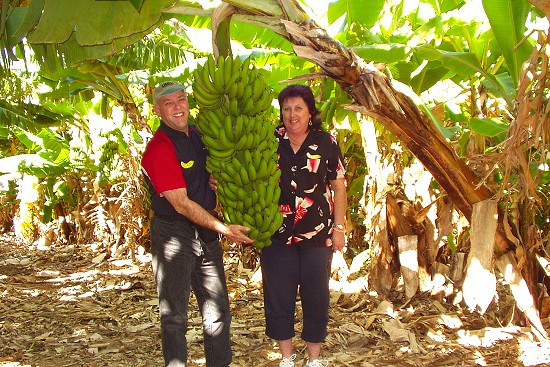 Carnavon Banana Plantation
---
Coral Bay - Western Australia
We were heading for Exmouth, but liked the look of
Coral Bay so we stayed a couple of nights. The first day
was beautiful and warm - then it started raining and a
storm came through.
| | |
| --- | --- |
| Tenting at Coral Bay | At the beach! |
---
Exmouth - Western Australia
Exmouth is a lovely but isolated town just short of the North
West Cape. Originally established to support the defense
installations, it's main attraction is Cape Range National
Park. Acting on advice from fellow travellers we signed
up for Niel McLeod's one day adventure tour - terrific!
| | |
| --- | --- |
| Visiting Gorge Country | Valley view in Cape Range NP |
| Tackling a 4WD Track in the Park | Yardie Creek - a flooded gorge |
| Great views and wildlife in Yardie Creek | My hat rescued from the water by fellow tour guests |
| The big prawn | The all day tour finishes with a magnificent sunset |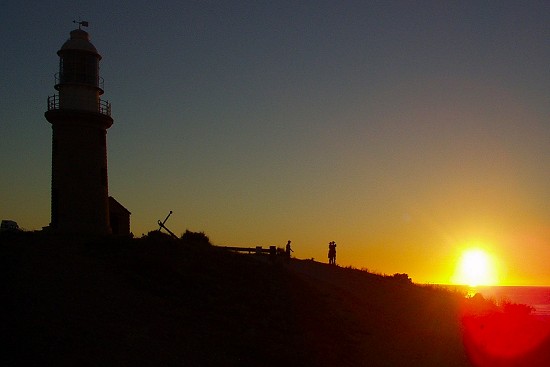 Another magificent sunset at the Exmouth lighthouse
---
Port Headland, Western Australia
Having lived for a few months in Port Hedland back in the eighties,
we were keen to see if the place had changed much - answer:
not much. But we caught up with some of Jody's friends who
are teaching in the local high school.
| | |
| --- | --- |
| Port Headland main port (iron ore) | At the pub with Jody's friends |
---
Broome - Western Australia
Often described as the jewel of North West Australia, Broome is
quite a bit bigger now than when we visited some twenty years
ago. Naturally, Cable Beach is the jewel of the jewel -
especially at sunset.

| | |
| --- | --- |
| Our large on-site van at Broome | Approaching sunset |
| Cheryl watching the sunset | Sunset with boats |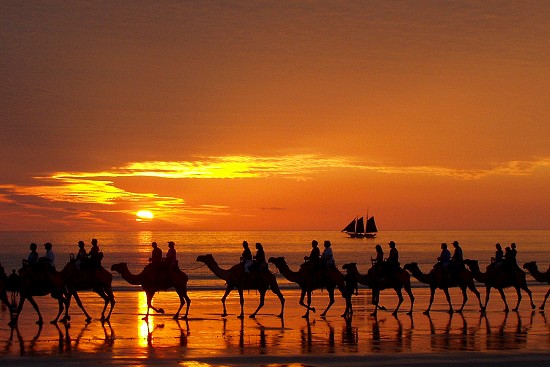 The true magic of a Cable Beach sunset
We did a day trip from Broome up the Dampier Penisula to see a famous
church built by the aboriginals and missionaries
| | |
| --- | --- |
| Church at Beagle Bay (Dampier Peninsula | Inside the church with the mother of pearl shell alter |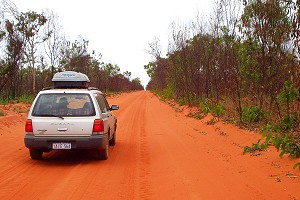 The road on the Dampier Peninsula
---
Derby - Western Australia
Cheryl twisted her ankle in Broome so we couldn't travel far the
next leg - only to Derby. The Boab trees are all around.
| | |
| --- | --- |
| A typical Boab tree | Sunset at Derby Harbour |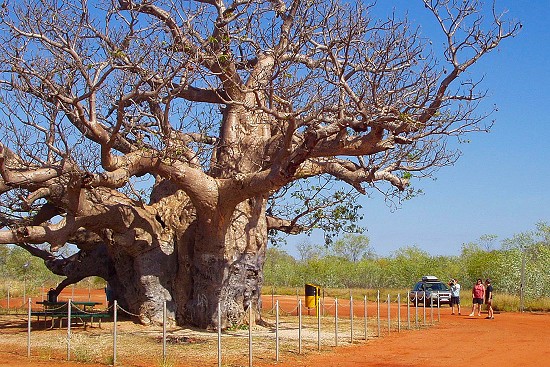 The biggest Boab tree found so far
---
Helicopter Flight over Bungle Bungle Ranges - Western Australia
We took a helipcopter flight over the Bungle Bungle ranges from
Turkey Creek (north of Halls Creek) - very spectacular. Next
time we'll drive in as well.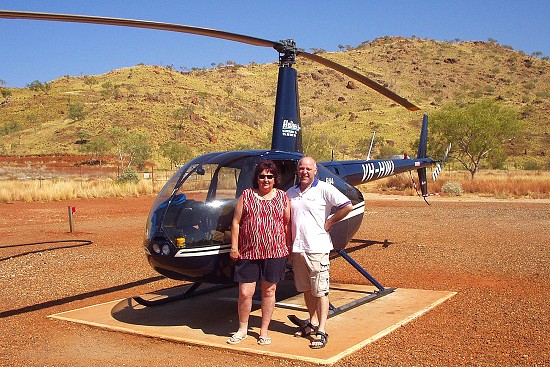 The helicopter we went in (no doors!)
| | |
| --- | --- |
| Inside the helipcopter | View of the Bungle Bungle campsite |
| Looking down inside a gorge | Another view of the Bungle Bungle "beehive" formations |
---
Kununurra - Western Australia
Came in via an overnight at Halls Creek. Kununurra had changed
quite a bit since my travels there on business in the late eighties.
Had a fantastic tour of Lake Argyle followed by a boat trip
down the Ord River back to town.
| | |
| --- | --- |
| Our cabin at Kununurra (fantastic) | On Lake Argyle |
| Lake Arygle Dam | Going down the Ord River on the boat |
| The speed of the boat (3 x 200hp Hondas) | A freshwater crocodile spotted on the river |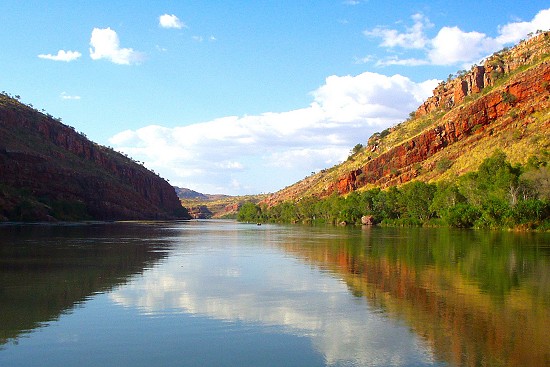 Magificent views on the Ord River
---
Katherine, Darwin - Northern Territory
Once inside NT we stopped at Katherine (great natural springs which
we soaked in for a few hours) then onto Darwin for a look
around and a couple of nights of luxury accommodation.

Crossing the WA-NT Border



Cabin in the lush Katherine region



The Adelaide River hotel has the actual water buffalo
seen in the Crocodile Dundee films (not stuffed)

Our hotel in Darwin
---
Kakadu and Litchfield National Parks - Northern Territory
While Cheryl returned to Perth for a few days, I took a three
day 4WD adventure tour of Kakadu and Litchfield National Parks.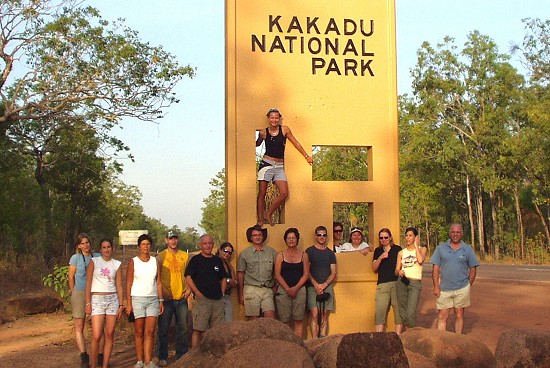 The tour group at Kakadu entrance
| | |
| --- | --- |
| Gorge country in Kakadu | Birdlife in the billabongs |
| Tent accommodation on the tour | Crocodile country! |
| Lunch break during the trip | Aboriginal rock art |
| Swimming pools in Litchfield NP | Florence Falls in Litchfield NP |
---
Daly Waters, Alice Springs, Ayers Rock (Uluru) - Northen Territory
Alice Springs is a nice sized rown with lots to see. Ayers Rock is
really worth seeing - more impressive than we expected.

No trip to NT is complete without having a beer
at the famous Daly Waters pub



Inside the unique pub


Alice Springs from the lookout



Ayers Rock



Ayers Rock at Sunset

Walking round the base of Ayers Rock
---
Wycliffe Well, Devil's Marbles - Northern Territory
Both on the road to Tennant Creek, Wycliffe Well is a unique
roadhouse for it's UFO "sightings". Devil's Marbles are well
worth a look.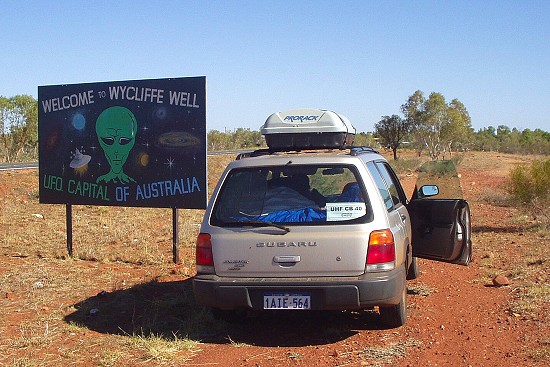 Sign at Wycliffe Well (on the road between Alice Springs & Tennant Creek)
| | |
| --- | --- |
| Aliens at Wycliffe Well | Another strange alien! |
| Devil's Marbles | Vandals pushing a marble over! |
---
|
Trip 2005
|
Qld, NSW and NZ
|
Vic, Tasmania and SA
|